Destination
Approximate Mileage:
Best Friends' Animal Sanctuary 15 miles
Bryce Canyon National Park 60 miles
Capitol Reef National Park 172 miles
Cedar Breaks National Park 45 miles
Coral Pink Sand Dunes State Park 17 miles
Glen Canyon & Lake Powell 88 miles
Grand Canyon – North Rim 100 miles
Grand Staircase Escalante National Monument 15 miles
Maynard Dixon Home Studio & Bingham Gallery 0.1 miles
Las Vegas, NV 187 miles
Monument Valley 208 miles
Moqui Cave 14 miles
Navajo Lake 39 miles
Old Hollywood Movie Sets / Frontier Movie Town – Kanab 19 miles
Pipe Spring National Monument 39 miles
Salt Lake City, UT 308 miles
St. George, UT 72 miles
Zion Canyon National Park 15 miles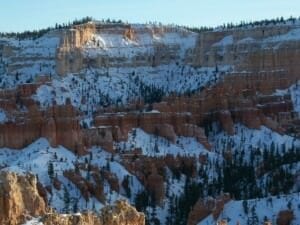 Things To Do
When you stay with us, you can visit an amazing park or monument every day for a week and still have many more to choose from.
Scroll down this page to see ideas and many web-links for:
Sightseeing
Hiking
Fishing
Guided Tours
Bicycle Rentals
Art Tours, Galleries and Museums
Golf
Entertainment
Kanab Area Calendar of Events link
Movie Sets and Locations
Sightseeing
For spectacular scenery, history and wildlife, visit the parks and try some of the scenic highways and byways in the area (and don't forget to catch the sunset on the beautiful White Cliffs behind Arrowhead). Also look for petroglyphs, Anasazi Indian ruins, pioneer forts, movie sets, art galleries and more nearby.
Bryce Canyon Things to to Test your camera skills at the National Parks and also at photographer hotspots such as Antelope Canyon, the Grand Staircase Escalante National Monument, the Wave, the White Cliffs of Mt. Carmel, Smithsonian Butte and many many others. In addition to the truly awesome scenery of the area, you can also capture (on film, that is) the wild turkeys in our pastures and the deer in the fields, as well as foxes, coyotes, elk, bald and golden eagles, hummingbirds, and the other wildlife that can be spotted nearby.
Fishing
Fish for rainbow trout at Navaho Lake, Panguitch Lake, Duck Creek and Tropic Reservoir or haul in record bass at Lake Powell. Boat rentals are available at Navajo Lake, Panguitch Lake and Lake Powell.
Movie Sets and Locations
Frontier Movie Town – Kanab – Little Hollywood Movie Museum
Lake Powell – Maverick, Planet of the Apes, Greatest Story Ever Told
Johnson Canyon – Gunsmoke
Grafton – Butch Cassidy and the Sundance Kid
Angel Canyon – Lone Ranger's 'Hi-Ho Silver'
Cedar Mountain – Jeremiah Johnson
Shopping
Visit one of the many gift, rock and shops in the area for park souvenirs.